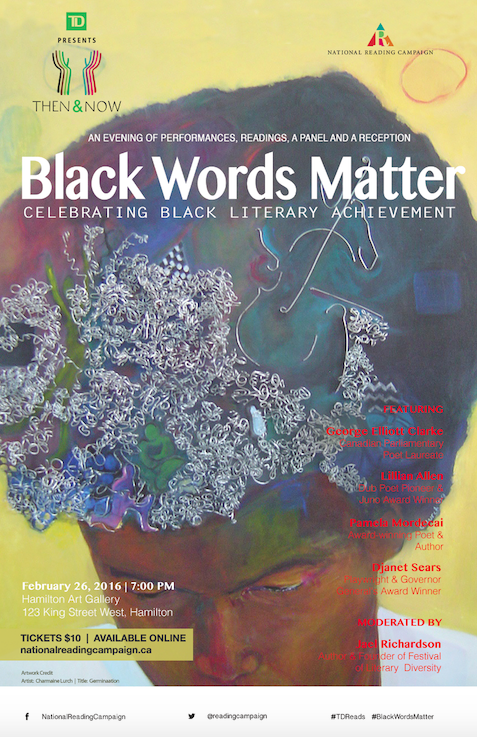 The National Reading Campaign in partnership with TD Bank present an evening of performances, readings and panel discussion celebrating Black literary achievement. We'll also have live painting, music, and a reception to follow!
When: February 26 | 7:00pm
Where: Art Gallery of Hamilton | 123 King Street West, Hamilton
Cost: $10
AUTHORS
George Elliot Clarke is the Canada's 7th Parliamentary Poet Laureate. In addition to being a poet, playwright and literary critic, Clarke is the E.J. Pratt Professor of Canadian Literature at the University of Toronto. His many honours include the Portia White Prize for Artistic Achievement (1998), Governor-General's Award for Poetry (2001), the National Magazine Gold Medal for Poetry (2001), the Dr. Martin Luther King Jr. Achievement Award (2004), the Pierre Elliott Trudeau Fellowship Prize (2005), the Dartmouth Book Award for Fiction (2006), the Eric Hoffer Book Award for Poetry (2009), appointment to the Order of Nova Scotia (2006), appointment to the Order of Canada at the rank of Officer (2008), and eight honorary doctorates. He has recently completed his three year term as the City of Toronto's Poet Laureate.
Lillian Allen is an award winning and internationally renowned poet. As one of its lead originator and innovators, she has specialized in the writing and performing of dub poetry. Lillian also initiated such programs as the legendary Fresh Arts and the International Spoken Word Program at Banff Center for the Arts. Multi-talented and multi-dimensional, she instigated, co-produced and hosted CBC's Wordbeat, a national weekly radio show on poetry and the spoken word. She is currently a Professor of Creative Writing at the Ontario College of Art & Design University in Toronto.
Pamela Mordecai is a poet, novelist, children's author, and scholar of Caribbean literature. A prolific anthologist with a special interest in the writing of Caribbean women, she has edited ground breaking anthologies such as Jamaica Woman, Her True-True Name, and From Our Yard: Jamaican Poetry since Independence. Her most recent anthology is Calling Cards: New Poetry from Caribbean Canadian Women. Her latest novel is Red Jacket, shortlisted for the Rogers Writers Trust Fiction Prize.
Djanet Sears is an award-winning playwright, actress, and director. In 1998, she received Canada's highest literary honour for dramatic writing, the Governor General's Literary Award. Her most recent work for the stage, The Adventures Of A Black Girl In Search Of God was shortlisted for a 2004 Trillium Book Award and enjoyed a six month run in the fall/winter of 2003/2004, as part of the Mirvish Productions Season. She is currently an adjunct professor at the University of Toronto's Centre for Drama, Theatre, and Performance Studies.
For registration and more information, click here.